Since 1928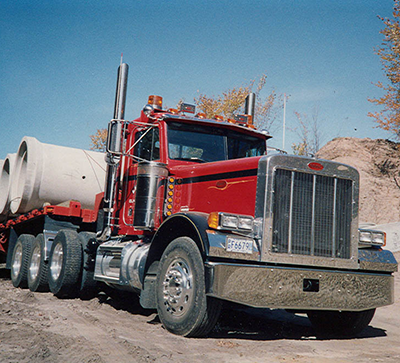 LeFebvre Companies, Inc. has been in the transportation service industry. 
What sets us apart from our competitors is our specialization in over-dimensional freight and hauling of precast concrete products.
A key to our ongoing success is the reliable relationships we make with our customers. This is done by consistently delivering their products safely, on time, at competitive prices. This model of hard work and partnership has served us well, creating lasting relationships, Over 90 plus years strong. We value our newer customers too. As the industry and needs of today shift and grow, it is our intention to continue to provide new services and to expand our offerings.
Our employees are the backbone of our services and customer relationships. Here at LeFebvre's we strive to give our employees more than just employment, we offer a place to grow into their potential and the industry. Our dedication to our employees can be seen from the gleam on our top-of-the-line trucks and fleet, to our competitive benefits and wages.
After all this isn't just a business, it's a family.
Our History
We are a company that began in 1928 when Noel LeFebvre bought his own truck to help around the farm, and soon found out that many in his community needed assistance hauling items such as livestock and farm equipment. These odd jobs grew until it was clear with Noel's hard work ethic and charismatic personality, that there was a business in the making. Soon he started hauling for his first commercial customer, Elk River Concrete Products. A partnership that after three generations still stands today.
The end of WWII brought many changes, including Noel's sons Eddie, Leon and Gene joining the company and continuing on the tradition of superior service and valued partnerships. LeFebvre Companies incorporated in 1960, bringing another generation, Leon's three sons Paul, Chuck, and John into ownership. Each generation has held fast to the hard work, pride and knowledge of those before them, while expanding the vision and services already provided. Such service expansions have included hauling bridge beams, road freight, heavy equipment, and bulk cement.
Today, we are still providing specialized service and continuing the invaluable partnerships we started over 90 plus years ago, while expanding and growing our operations and services to meet the needs of the future.